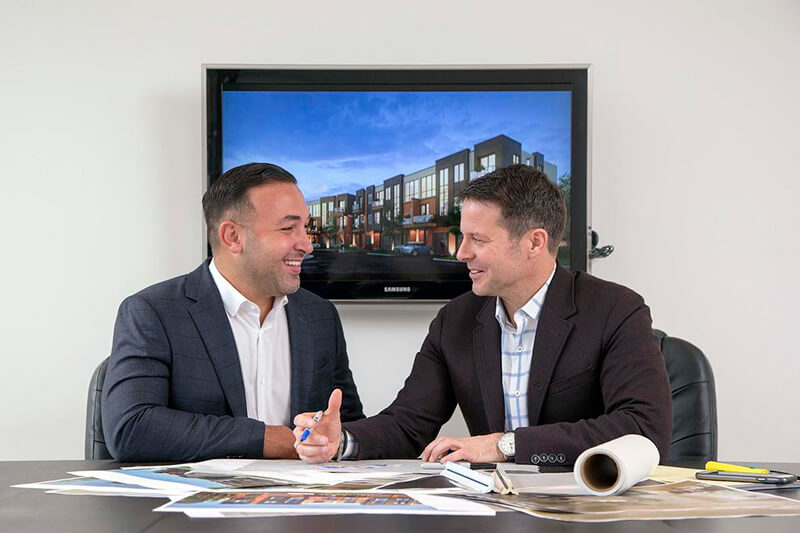 A NEW TAKE ON AN OLD NIAGARA COMMUNITY
A downtown city lifestyle is moving into the Niagara Region with a new project bringing townhomes and a condominium building.
Fonthill Yards, by Aiva Properties, will include 23 townhomes and an 82-unit, six-storey midrise condominium. The two- and three-storey townhouses are under construction and the first group is slated for occupancy in autumn, 2019. Two-thirds of the townhomes are sold with the remainder coming onto the market in early 2019. The condominium units are expected to go on sale in spring, 2019.
"The concept of work, live, play doesn't exist here, so we're introducing a development where people can comfortably leave their homes and walk to amenities," says Tony Azzi, principal of Aiva Properties, and a member of the development team for Dubai's Palazzo Versace Hotel and the city's tallest residential building, the 80-storey D1 Tower. "It will have an urban feel in what is traditionally considered a (rural) community.
"When this former lumber yard site in the middle of a rapidly developing part of town came on the market, I jumped all over it," Azzi says.
He notes that Fonthill Yards' townhomes and condos have wide appeal to buyers: "We have both 20-somethings and 80-somethings."
Provincial growth forecasts peg the population of the Niagara Region at 610,000 people by 2041. A key aspect of the projected growth is an expansion of GO Transit's commuter train line with stations in nearby St. Catharines, Grimsby and Niagara Falls scheduled to open in 2021. The new rail line service will coincide with the region serving as host of the 2021 Canada Summer Games.
Having access to regular rail transit helped Joel Ghandour make a decision to purchase a Fonthill Yards townhome.
"My girlfriend and I were first looking for investment properties and I have a lot of friends in Niagara," said Ghandour, 32, a sales representative for Moneris. "A mortgage broker friend told me about Fonthill Yards. I was up in the air, but when they announced that the GO train was coming, I began to think outside the box.
"I can work remotely and have flexible hours, but when I do have to go into Toronto, my commuting time will go down, thanks to the train."
Ghandour, who lives in Mississauga, purchased an 1,800-square-foot, three-storey, corner-unit townhome for $699,000. He chose to add an optional elevator and hardwood floors to a package that already includes pot lights, smart-TV outlets, quartz countertops and central air. He and girlfriend, Tina Persaud, 31, plan to move into the house as soon as it's ready.
"I couldn't find the same house in Toronto for $600,000-plus," Ghandour said. "Pricewise, in Toronto, you're looking at $600,000 to $700,000 for a one- or two-bedroom condo."
"Fonthill and the Niagara Region are going through a renaissance," says Michael Allen, principal architect with ACK Architects which designed Fonthill Yards.
"There's good development throughout Fonthill and this site is the epicentre of that," says Allen, describing the architectural style as "Main St. meets contemporary," with buildings that combine masonry, stone and glass.
"The interiors have clean lines, simple detailing and large windows. We capitalized on views and also on privacy."
Rather than placing one massive building on the site, the team opted for multiple buildings that work together.
"The townhouses are a community within the community," Allen says. "The varying heights will transition into the midrise condominiums. They are also inward facing, giving the owners some private space, yet they are well-connected to the overall Fonthill community, which is literally at their doorstep."
A triangular park, The Woodlot, will occupy the centre of the development with townhomes on two sides and the condo building on the third. "We wanted to leave the park in the middle open," Azzi said. "We wanted space to let people breathe when they leave home."
The site also abuts the Steve Bauer Trail, a six-kilometre multi-use path from Fonthill to Welland used for walking, running and cycling in the warmer weather and for snowshoeing and cross-country skiing in winter.
Allen adds that the development's diverse appeal to a range of ages and lifestyles "is what really makes a community work.
"You'll even have the opportunity to change lifestyles within the same community; if you want to downsize, you move to a condo or buy a townhome if you need more space."
Share post: