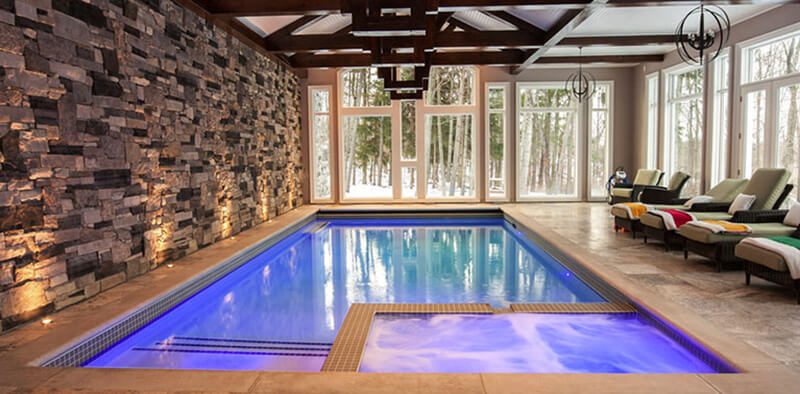 A STATE OF THE ART INDOOR ENTERTAINMENT ROOM
This is not just your typical recreation room. This entertainment space includes a 4.5 x 9m (15ft x 30ft) rectangular swimming pool with a built-in 1.8·x 2.4-m (6ft x 8ft) rectangular spa designed and constructed by Oasis Pools Ltd.
The project was part of an extensive home renovation in Grimsby, ON! As the client's home is situated on a beautiful wooded estate on an escarpment, the room was designed with a rustic appeal, making sure to take advantage of the surrounding vista.
The room features a stone wall accented with LED lighting, flanking the pool and extending outdoors. Large windows and doors on the remaining walls invite the outdoors in and flood the area with natural light. Adding to the rustic feel are impressive wood beam trusses supporting a vaulted ceiling above the pool.
The homeowner wanted the pool and spa to have a sleek, clean design, thus using the space as efficiently as possible. The spa is built into the pool's shallow end, featuring flat-top walls and a trough spillway. The pool also features a stairway, with one step built as a 660mm (26in.) wide lounging shelf accented by a LED-lit fountain nozzle, and a swim-out bench in the deep end. The pool is 1.03m (3.4ft) deep in the shallow end, while the deep end is 2.4 m (8 ft).
The pool and spa are completed with a white marbleite plaster finish. Porcelain tile is installed at the water's edge, also capping the spa walls and detailing the stairs, swim-out, and spa benches. The pool coping is an Indiana-grey limestone complementing a travertine deck. The pool features cartridge filtration, LED-colour lighting, variable speed filter pump, and an automated controller with an iPhone interface.
A sleek, charcoal-coloured automatic cover secures both pool and spa ensuring safety with the added benefit of energy savings. A state-of-the art heating, ventilation, and air conditioning (HVAC) system featuring Dectron dehumidification and radiant floor heating creates a year-round comfortable environment. Topping things off, the room is also equipped with a video projector and a 2.4m x  4.3m (8ft x 14ft) large screen above the pool's deep end, which retracts into the ceiling.
ACK Architects competed the architectural and interior design of the home addition, while Phelps Renovations handled the construction of the building with Four Winds installing the mechanical systems.
Share post: