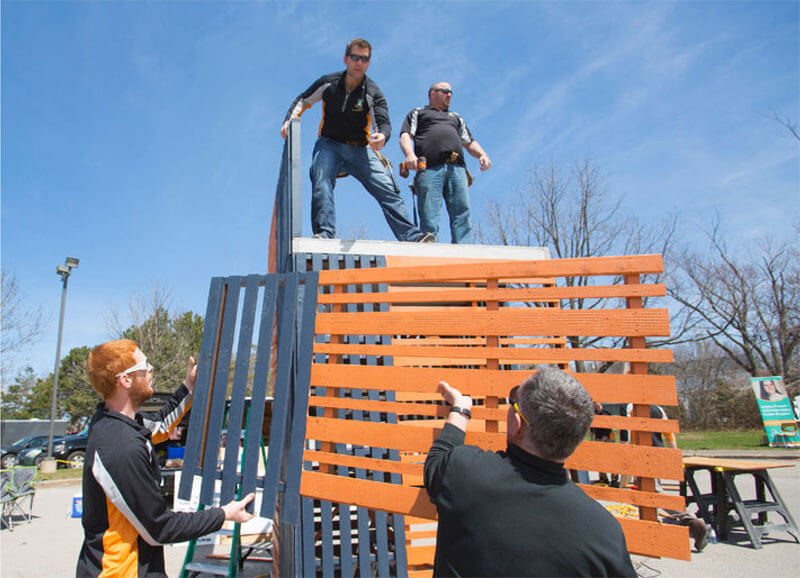 ACK ARCHITECTS JOINS GATTA HOMES FOR VICTIMS OF CRIME
Here's another reason it's a good time to be a kid in Niagara.
Three Niagara-based home builders squared off in a playhouse building competition Sunday afternoon, with the final entries auctioned off to support the Kristen French Child Advocacy Centre Niagara and Victim Services Niagara.
Three builders-Gatta Homes, Rinaldi Homes and Park Lane Home Builders-agreed to come on board and build their best playhouse in what's called Niagara Developers Playhouse Competition and Auction for Victims of Crime.
And build they did.
With chalkboard exterior walls, rock-climbing walls, slides, lofts and three-storeys offun, the playhouses were absolutely unique.
The event, held in the parking lot at Jeanne Sauve French Immersion Public School, is the brainchild of Laila Enam.
It kicks off National Victims of Crime Awareness Week, and the theme is Building for Change, said Janet Handy, executive director of the Kristen French Child Advocacy Centre.
"This is our metaphorical 'build for the future' contribution for that week and to bringing awareness to victim needs," said Handy. The centre works with children disclosing abuse, physical and sexual assault and witnesses of violence. They conduct on average
one interview with a child per day.
"For me, it's about victim awareness. No one thinks they are going to be a victim, so I think people are taken off guard and they feel alone in those initial hours.
"So I think it's really important to have a safe place to go and talk and get the support they need," said Angela Arsenio, executive director for Victim Services Niagara.
The agency is there for people ages 16 and over, whereas the Kristen French centre is for children under the age of 16.
"What happens initially sets the tone for their recovery, so I think it's important that people understand that in the community," said
Arsenio.
For the builders, it wasn't just about supporting a great cause but also enjoying a little friendly competition.
Asked why he joined, Kekoo Gatta, a designer with Gatta Homes, said he was in "as soon as they said there's a challenge against other builders.
"We love beating other builders." And they took that to heart.
Enlisting local architectural firm ACK Architects to design the three-storey playhouse, they turned it into more of a play-mansion
complete with a balcony and cantilevered floor.
"They gave us rules, so like usual, we broke every rule," Gatta said with a laugh.
"It's been exciting. A lot more work went into it than I thought was going to be," said Danielle Rinaldi, marketing coordinator for
Rinaldi Homes.
"We got involved because we thought that it would be a great event and because it's more unique than anything we've done before."
Stephen Czernielewski, supervisor at Park Lane Home Builders, agreed. "It's been great. Exciting," he said.
"We' ve built for contracts, but nothing for the kids. So this is a very fun event that everyone was excited for.
"Overall we' ve had kids come and go and their jaws drop when they are inside, and that is a great feeling to have and see as well." The auction price began at $300 for each playhouse but the builders were hoping to raise about $1,000 from the sale of each
playhouse.
Share post: